May 28, 2019—Audubon is thrilled to announce that Eli Schaffer has been promoted to Director of Greenwich Audubon Center, effective immediately. Eli will lead the center staff to achieve great conservation and engagement goals, as well as oversee operations, major initiatives, and the implementation of the center's three-year strategic plan.
With a background in education and community engagement, Eli joined Audubon in February of 2017 as Public Programs Manager and helped significantly boost the center's programs. He led the coordination of the center's flagship public program, the annual Fall Festival and Hawk Watch, doubling its sponsorship and attendance. Having assumed much of the management of the center's daily operations, Eli was promoted to the role of Assistant Center Director in June of 2018.
As Assistant Center Director, Eli ushered the center through a transition period resulting from the recent departure of beloved Center Director, Michelle Frankel. Having worked closely with Michelle over the past two years, Eli is uniquely suited to grow upon her legacy of educational excellence and a commitment to making Greenwich Audubon Center a place for all people to enjoy and to help protect the wonders of nature. Most recently Eli has re-engineered the visitor experience through a renovation of the center lobby and The Nature Store and the installation of the soon-to-be-revealed, The Perch Coffee Lounge with a nature theater.
As a young boy, Eli found the wonders of his backyard to be all the entertainment and inspiration he could ever need. He says, "From studying insects and building forts in the woods to climbing trees and watching every summer meteor shower, the amazing world just outside our doors has always captured my imagination and inspired me to act to ensure it would be just as amazing for future generations. The chance to lead a community as rich and engaging as that which calls the Greenwich Audubon Center home is the opportunity, honor, and responsibility of a lifetime."
The center stands ready to embark on a new and exciting chapter in its rich history as the first Nature Education Center of the National Audubon Society. With Eli at the helm, we are confident the Center will achieve all that we have planned for it in the months and years to come.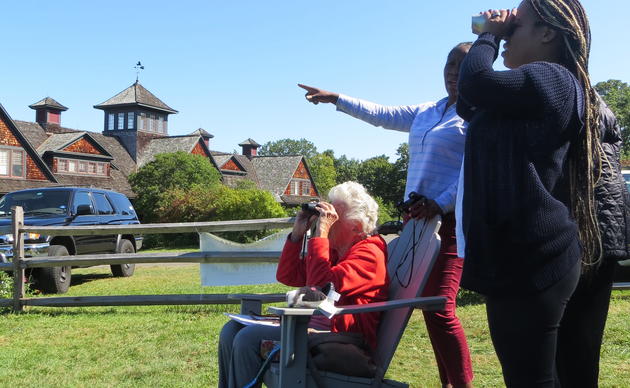 Audubon For All
Everyone benefits from experiences with nature. At Greenwich Audubon Center, we make nature accessibility a priority.