In the Community
Hob Osterlund: Lecture and Book Signing
Saturday, November 09, 2019
5:00pm - 6:30pm Greenwich, Connecticut
Location Details
Greenwich Audubon Center
613 Riversville Road, Greenwich, 06831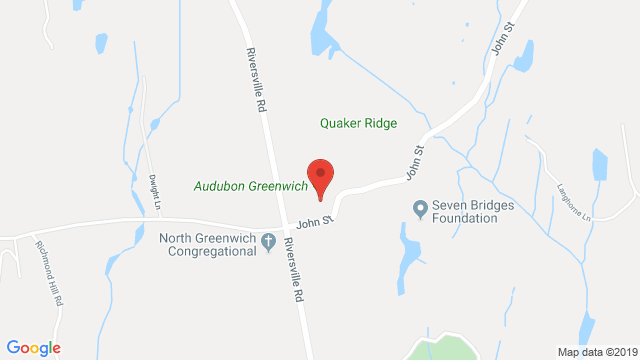 Join us for a special lecture with award-winning author Hob Osterlund. Albatross have likely nested in the Hawaiian Islands for millions of years, but disappeared with the arrival of humans more than a thousand years ago. A few decades ago, individual birds began returning to Kaua'i, and the population has gradually grown since then. Now, as their mother ship at Midway Atoll in the Northwestern Hawaiian Islands becomes more and more treacherous, Kaua'i may become the birds' Noah's Ark.
In this presentation, Hob will be showing her award-winning documentary "Kalama's Journey" and exploring what she's learned about the meaning of the moli (albatross) in Hawaiian culture. After the lecture, she will be signing copies of her book Holy Moli. Please join us for this special event.
All are welcome
Free
RSVP is requested
For questions and to RSVP, please contact Caroline Bailey at Caroline.Bailey@audubon.org or 203-900-3349.
About the Author: Hob Osterlund, APRN, is an award-winning writer, photographer, and conservationist living on the island of Kaua'i. Her work has appeared in The New York Times, National Geographic Explorer, Audubon, National Wildlife, Nature Conservancy, Hana Hou (Hawaiian Airlines), Ms. Magazine and more. She is the author of Holy Moli: Albatross and Other Ancestors (Oregon State University Press) now in its fourth printing. She is the founder of the Kaua'i Albatross Network and has served as a habitat liaison for a number of private landowners for several years. Her work includes direct services such as systematic monitoring of all Laysan albatross on those properties, assisting with predator control and serving as a link between private landowners and state and federal wildlife agencies. For five nesting seasons (2014-2018), Hob worked as a Kaua'i Coordinator for the Cornell Lab of Ornithology "TrossCam" project.
Greenwich Audubon Center is a vibrant nature education center located at the main 285-acre Audubon sanctuary in Greenwich. We are a part of the Audubon Connecticut state office of the National Audubon Society and Atlantic Flyway, and steward a total of seven sanctuaries in the Greenwich area. Our mission is to protect birds and the places they need, today and tomorrow. Visitors are welcome to enjoy our miles of trails, nature programs, education resources, conservation-themed events, and nature store throughout the year.
We support a diverse and inclusive environment, and welcome individuals of all races, physical and mental abilities, sexual orientations, gender identities, ethnicities, and perspectives. We work with families to modify programs for accessibility where possible.
Learn more about Accessibility at Greenwich Audubon Center